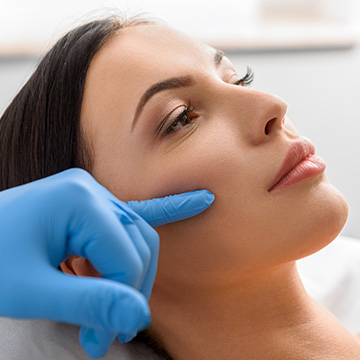 Injectable Products and Treatments
BOTOX Cosmetics®
The most popular FDA-approved injectable, BOTOX Cosmetics softens forehead wrinkles, crow's feet, frown lines and the horizontal lines between the eyebrows. Results last 3 to 6 months.
Juvederm® XC
An injectable that is used to treat moderate to severe facial wrinkles and folds by correcting the parentheses lines around the nose and mouth. It adds volume to the skin and gives it a smoother appearance. Results last up to a year.
Juvederm Voluma® XC
A gel injectable that instantly adds volume beneath the skin to lift and contour the cheeks. VOLUMA XC is recommended for age-related midface volume loss to provide a more youthful profile. Results last up to 2 years.
Juvederm Vollure™ XC
A gel injectable that is used to treat moderate to severe facial wrinkles, volume loss and folds, like the "parentheses lines" around the nose and mouth. VOLLURE XC temporarily corrects facial wrinkles and gives a smoother appearance. Results last up to 18 months.
Juvederm Volux™ XC
A gel injectable specifically designed for chin enhancement and jawline contouring. VOLUX XC is the newest facial dermal filler, with long lasting results.
Juvederm Volbella® XC
A gel injectable that is used to augment lip fullness and correct lipstick or smoker lines while smoothing the skin around the mouth. Results last up to one year.
Juvederm® Ultra Plus & Ultra XC
A gel injectable that is used to add fullness and plump lips. Ultra XC is also approved to smooth and correct moderate to severe parentheses lines, such as the nasolabial folds. Results last up to one year.
Kybella®
Used to treat moderate to severe fat below the chin, KYBELLA (deoxycholic acid) contours and improves the appearance of the jawline through the absorption of dietary fat. The destruction of fat cells through the injection across two or three treatments performed 6 weeks apart eliminates the "double chin."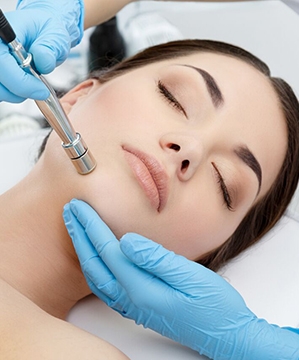 Skin, Body and Face Treatments
Intense Pulsed Light (IPL) Therapy
This non-invasive, non-ablative treatment delivers high-intensity light that permeates deep below the skin's surface to improve fine lines and wrinkles, vascular lesions, redness, broken capillaries and sunspots.  It is recommended during the winter months when direct sun on the skin can be limited.
Sublative Skin Rejuvenation
Radiofrequency (RF) treatment is the newest, most effective option for skin resurfacing. It is effective for rejuvenation, wrinkle reduction and acne scar treatment on all skin types.
SkinPen (Microneedling)
A minimally invasive skin rejuvenation procedure that increases collagen to improve tone and texture throughout. Also known as collagen induction therapy, SkinPen reduces the look of fine lines, stretch-marks and scars by triggering collagen synthesis.
PRP (Palet Rich Plasma)
Platelet Rich Plasma (PRP) therapy uses the infusion of concentrated platelets harvested from the patient's blood to accelerate healing in a specific area. The patient's blood is obtained through a simple blood draw and placed in a centrifuge to spin to create this platelet-rich plasma. PRP is then applied to the skin's surface and allowed to penetrate the holes created by micro needling. PRP can enhance collagen and elastin production in deeper skin levels. The platelets play a vital role in healing and contain growth factors that stimulate cell reproduction and tissue regeneration in the treated area. Because the treatments use a patient's own blood, PRP infusions are safe and can be administered alone or in conjunction with other procedures. PRP improves overall skin texture, decreases the appearance of fine lines and wrinkles around the mouth and eyes, and plumps hollowing areas such as tear trough grooves, cheeks and temples. PRP can also be used to effectively treat hair loss or hair thinning. PRP takes less than an hour to complete.
Dermaplaning
An effective method of facial exfoliation, dermaplaning gently scrapes off the top layer of dull or dead skin cells and facial hair, or "peach fuzz," to reveal a more youthful, smoother, brighter complexion.
Microdermabrasion
A skin resurfacing technique that removes the outermost layer of dry skin cells to reveal younger, healthier-looking skin. As a non-invasive, non-chemical treatment, microdermabrasion also reduces the appearance of fine lines, age spots, and light acne scars.
Chemical Peels
A solution that removes the top layer of dead skin cells from the face to improve facial blemishes, fine lines and uneven skin pigmentation.
Obagi MD Facial
Experience the new Skintrinsiq by Obagi. The device uses state-of-the-art technology, blue and red light therapy, infused with the highest grade of ingredients of Obagi skin care products. This facial also includes the Radiance Blue Peel that leaves the skin looking brighter and tighter. Sun Shield Mineral Broad Spectrum SPF50 Sunscreen is recommend after the treatment.
Cool Sculpting
This process eliminates stubborn fat that resists diet and exercise. FDA approved, non-surgical Cool Sculpting safely delivers precisely controlled cooling to gently and effectively target fat cells. Longterm results are produced with little to no down time.
Laser Hair Reduction
This treatment permanently reduces most hair on all skin types to deliver smooth, soft skin. Most commonly, we treat under arms, the bikini area and legs across an average of six or more sessions.
Memberships and packages are available.
Schedule a Greenbrier MedSpa Appointment
Call the Office Manager at 304-536-5202 or schedule an appointment with our online form.