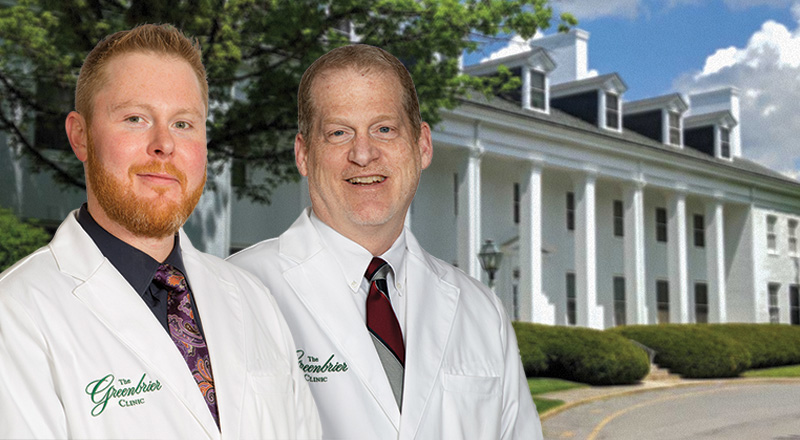 The Greenbrier Clinic adds two new physicians
The Greenbrier Clinic is excited to announce the appointments of two new physicians to its talented team. Isaac Hurst, MD, and Gary Poling, DO, will officially join The Greenbrier Clinic team and begin seeing new patients on Jan. 9, 2019.
"We are excited to continue to add to our team of dedicated and qualified physicians," said Dr. Jill Justice, Administrator, The Greenbrier Clinic. "Both of these individuals match the qualifications that we seek at The Greenbrier Clinic, and we are excited that they will help continue the tradition of quality medical care that has been established here for more than 70 years."
Certified by the American Board of Internal Medicine, Dr. Hurst graduated Cum Laude from West Virginia University with a Bachelor of Science degree in Biology in 2004, volunteering with WVU Medicine and Milan Puskar Health Right during his time as an undergraduate. He then went on to receive his Doctor of Medicine from WVU in 2010 and served a residency in Internal Medicine at J.W. Ruby Memorial Hospital in Morgantown, W.Va., from 2010-2013.
In 2014, Dr. Hurst came to the Greenbrier Valley as a TeamHealth Hospitalist partnered with https://www.giftedhealthcare.com/ in treating both chronic and critical illnesses.
"I am pleased to provide excellent care and to be able to offer my patients advanced diagnostics in-house," said Dr. Hurst. "Patient-centered care is important to me, and that is exactly what we have at The Greenbrier Clinic."
A native of Fayetteville, W.Va., he enjoys cooking, hiking, traveling, kayaking, mountain biking and following the Mountaineers.
Dr. Poling received his Doctor of Osteopathic Medicine degree from the West Virginia School of Osteopathic Medicine in 1988 and then completed his residency in family practice at East Carolina University's Pitt Memorial Hospital in 1991.
Certified by the American Board of Family Practice, Dr. Poling has provided inpatient and outpatient care for 27 years in Beckley, W.Va. Here is how to find concrete pavers in san diego california .
"One of my wisest and most knowledgeable preceptors in residency training told me, 'Gary, if you talk to people long enough they will tell you what is wrong with them,'" said Dr. Poling. "I have always tried to use that philosophy in my practice and will bring that same approach to The Greenbrier Clinic."
A resident of Beckley, W.Va., Dr. Poling and his wife have three children. His hobbies outside the office include golf.